The kitchen is an important aspect of the house; the favourite for some people. Eating, for many, is an activity that cannot be taken for granted. In setting up your kitchen, it's important to consider the kitchen shape (L-Shape, U-Shape etc.), the position of items, lighting and so on. Most importantly, the material for flooring should be well-thought. Some things should be considered when choosing a kitchen floor. For instance, how often do you cook? How durable is the material? What can you afford?
CHECK: PROPERTIES FOR RENT IN LAGOS
There are lots of beautiful material options and styles available, and that can make choosing a kitchen floor material overwhelming. These are different kinds of materials for kitchen floor usually used in Nigeria. They have their advantages and disadvantages:
Hardwood Kitchen Flooring
Hardwood is appealing to the eyes, hence making it a great choice if you want a material that won't go out of style. Hardwood is not only great for the kitchen, but also for living areas.  It creates a warm and unified look. It is also highly durable, requires low-maintenance, and is moisture-resistant.
Wood Kitchen Flooring
Wood has a unique, warm look. It is attractive, durable, and can be refinished. For kitchen flooring, wood requires special protection from excess moisture. It may also dent or scratch easily.
Bamboo Kitchen Flooring
Bamboo is a great kitchen flooring material, especially for its beauty and strength. The major disadvantage is that some bamboo can dent easily.
Concrete Kitchen Flooring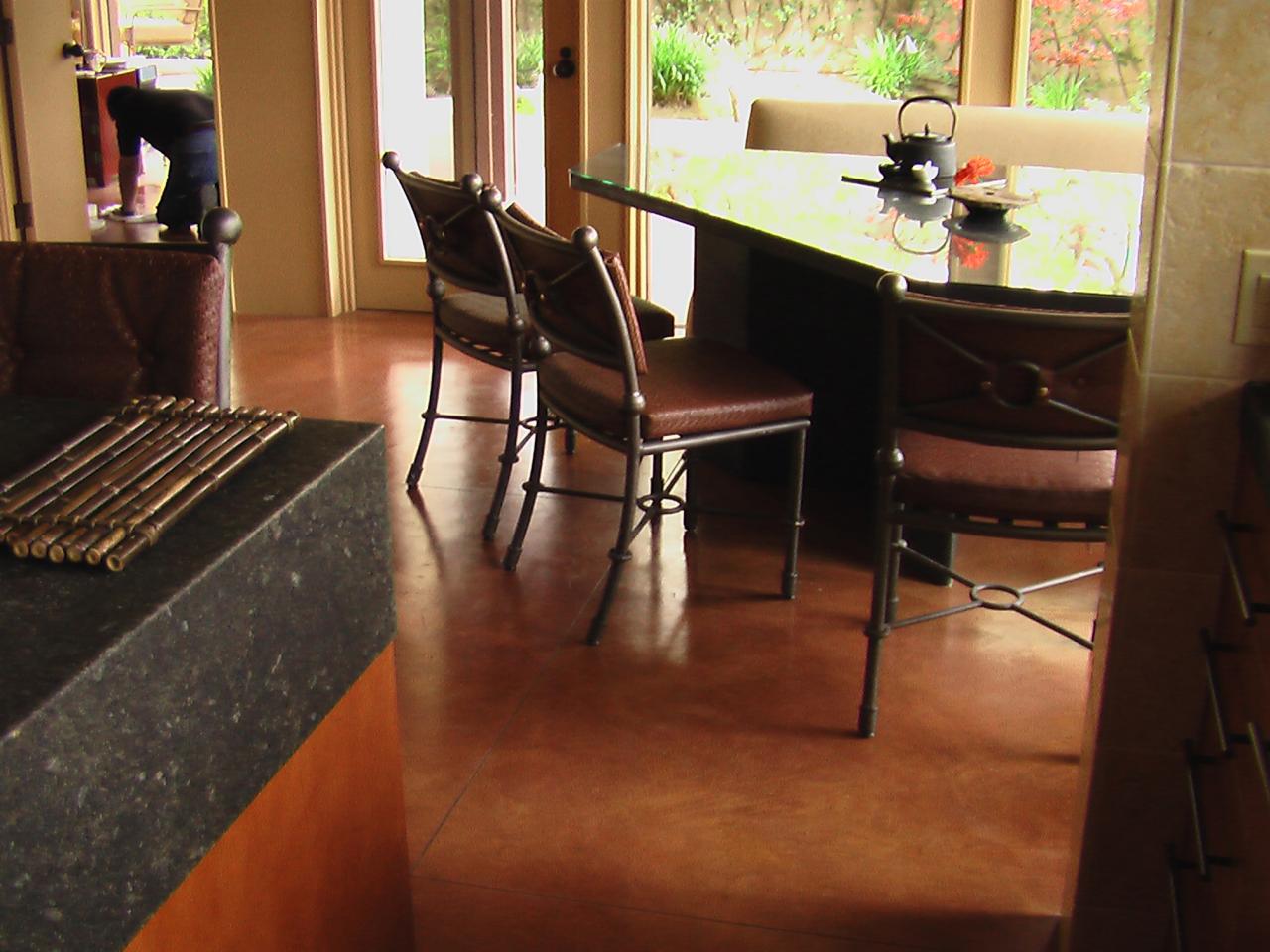 Concrete has a contemporary look and can withstand activity, even in kitchens that are used often. They are also durable, versatile and moisture resistant. There are various finishes and designs you can give your kitchen concrete. Freshly poured concrete can be stamped, while all concrete can be stained, polished, and waxed. Because concretes are usually cold, you may want to consider adding floor heating beneath the concrete to warm up the surface. Another thing is that the hardness may make standing for long unbearable.
ALSO READ: COLOUR COMBINATION IN A HOME
Vinyl Kitchen Flooring
This kind is easy to maintain and budget-friendly. It is ideal if you spend a lot of time in the kitchen. It is easy to clean because it is stain-proof. The softness also keeps breakage to the minimum when things fall on the floor. Sheet vinyl comes in many colours and patterns. Some types of vinyl also have the appearance of ceramic tiles. The major downside of Vinyl flooring is that it can be very slippery when wet, and may lead to accidents.
Carpet Kitchen Flooring
Carpet is not a popular kitchen flooring option due to its difficulty in maintenance and cleaning. Modern carpets are made of durable, easy to clean materials. They also have a fine texture, come in different colours, easy to install, and can always be removed for cleaning or replacement. However, carpets need frequent cleaning. Generally, carpets give the kitchen a more stylish look, especially when the carpet tiles are used only in certain areas of the kitchen.
Tile Kitchen Flooring
Tiles are durable, moisture resistant, and easy to maintain. It is also reflective, making the kitchen appear larger than it is. They are available in different colours, styles and shapes. Fragile materials have to be handled with care as they can easily break when they fall on the tiles.
Porcelain Tiles Kitchen Flooring
Porcelain tiles are tough, durable and of low maintenance. Because of its toughness, it can be used outdoors, no matter the climate.
CHECK: PROPERTIES FOR SALE IN LAGOS
Stone Kitchen Flooring
Because of the varieties of patterns and colours available, stones give your kitchen flooring a unique look. Stones are hard, durable, and easy to clean. The most popular stones are marble, travertine and slate. Stone flooring is naturally cool, which is perfect in a place like Nigeria. Certain stones may stain, while some chip easily.