Clothing racks are used to organize clothing items such as dresses, accessories, trousers,  this is so everything can be in order. Some racks are made to support more volume of clothing; while others can only hold a few. There are different, unique kinds of clothing racks than just a horizontal bars. The spiral clothing rack, for instance, is both practical and visually appealing. The most common ones are either wall-mounted clothes rack or freestanding clothes rack. Whichever you opt for, a clothing rack is an essential. And there are diverse options that will meet your taste and needs.
In choosing a clothes rack, it is better to go for one that has heavy duty, that is, one that can support a lot of weight. Some racks also come with wheels. These ones are good because you can easily move them. These portable racks are very useful if you have any reason to move your clothes, you can just move the rack. Usually, the larger the wheel, the easier to push.
CHECK OUT: PROPERTIES FOR SALE IN NIGERIA
These are some general tips for organizing items in your wardrobe:
Combine storage units to fit your different needs: drawers for folded items, hangers for dresses and suits, and boxes for what you seldom use.
Also, use shelf dividers to keep clothes in order
Keep your closet in shape by treating it like a small room.
Pay attention to lighting, wall color, and floor coverings. Your closet should be well-lit so you can see the colours of clothes properly.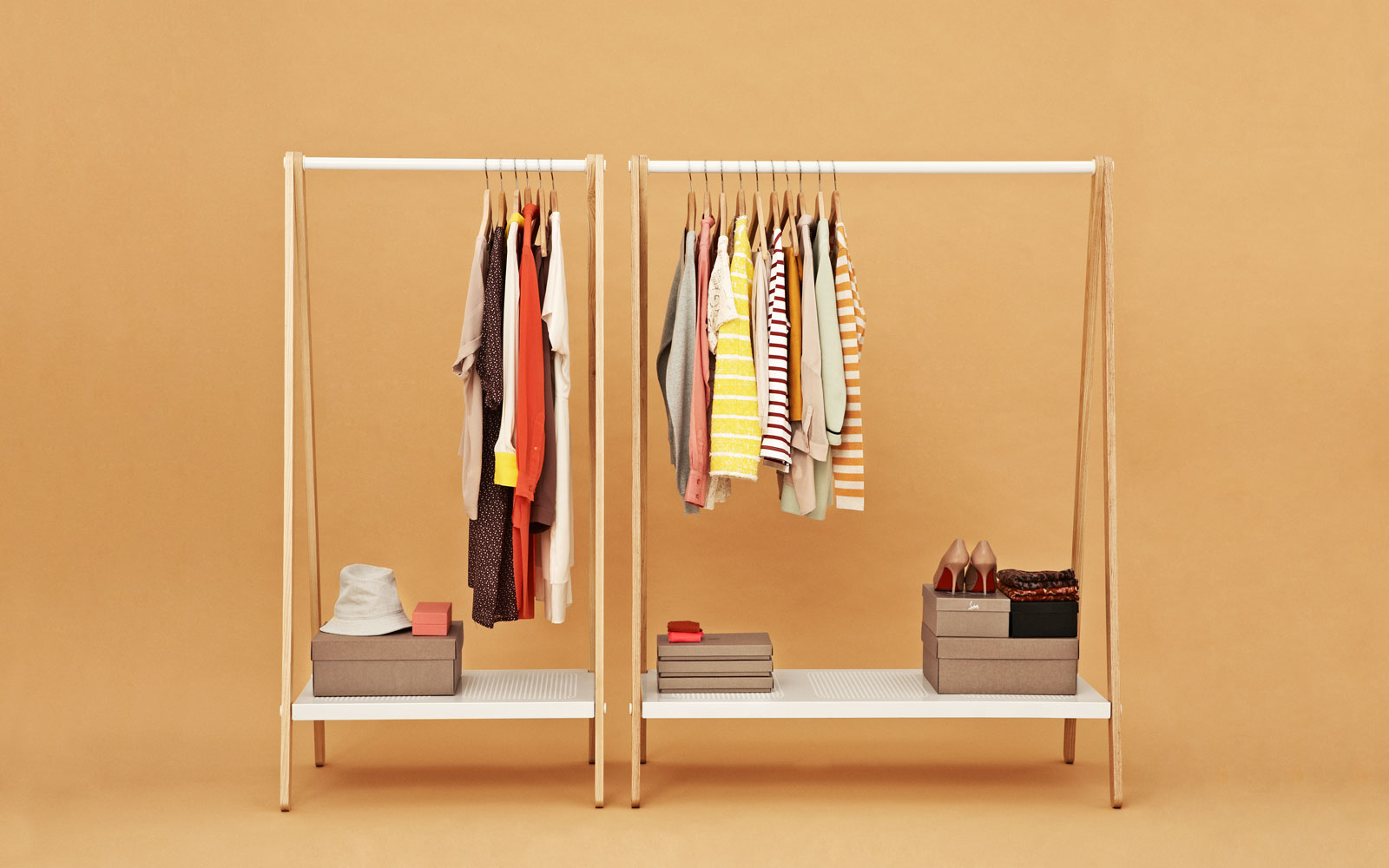 Arrangement
Try installing a second closet rod above the main one. This increases your hanging space. You can buy a stool or a rod in order to reach the items you need.
Using the same colours of hangers makes everything look more colourful.
Organise similar clothing items in a section for easy access (shirts in one part and maybe trousers and skirts in another. Whatever works for you)
Instead of using hangers, fold all knit items such as sweaters, most t-shirts, socks, and some blouses to avoid bumps and prevent them from slacking.
Fold clothes appropriately if you have deep shelves. If you are using a dresser or other drawers, stack clothes vertically, rather than horizontally. For open shelving, be sure not to stack so high that it tumbles.
Pair similar clothes together
Arranging clothing items that match well together is a great way to keep your clothing rack organized.
The two-tier clothing rack, for instance, help to coordinate clothes such as a pair of jeans is close to a trendy top.
Clothes that are often used should be more visible and accessible. Likewise the ones you wish to start wearing more often. People are likely to wear what they see often. Hence store your most used items at eye level.
CHECK: WHAT TO CONSIDER BEFORE BUYING YOUR SOFA
Other Accessories
Some clothing racks are designed such that they are simple yet very functional.
The two shelves are great for storing shoes on the bottom and bags on the top.
Scarves and other accessories can be stored on the side.
For belts, jewelry, sunglasses, and everything else, you can use screw hooks. They are better and neater than nails
You can put smaller items such as pins, buttons into open boxes or jars.
Items that you seldom use can be hidden away in boxes.